Welcome to SK8CAD Version 1.4!
With the help of our Patreon supporters, we've made a couple of major upgrades to SK8CAD:
1) User Accounts & Maker Map: In order to download files, you'll need to create a free account, which will give you the opportunity to be listed on the "Maker Map", a map of board builders and suppliers. The user account will provide you with a more personalized experience, with in-app saving and loading of designs in the works!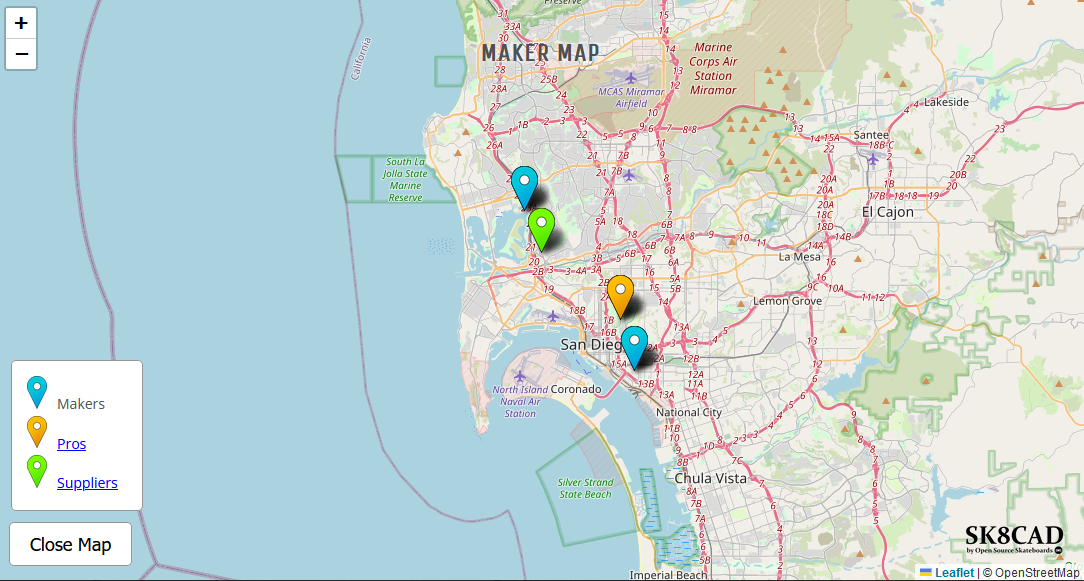 2) CSV Export: You can now export configurations of your designs by clicking the "CSV" button to download a CSV file of your parameters and values.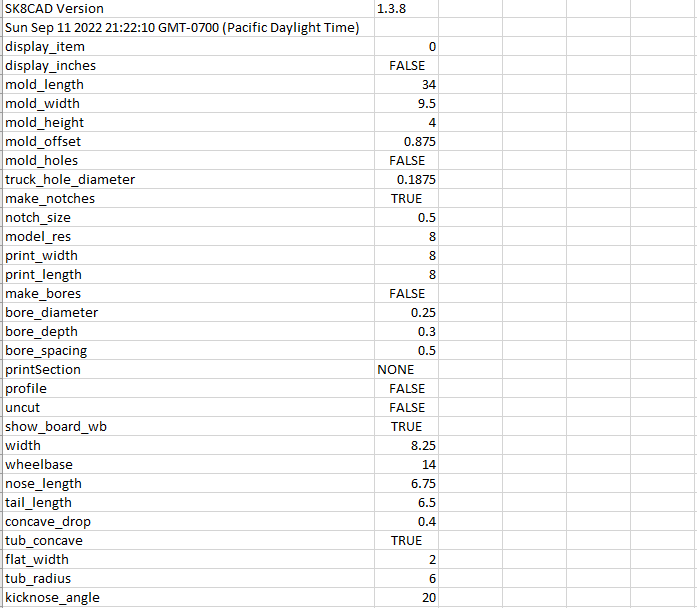 3) Show Uncut Deck: View the uncut, rectangular board by selecting "Show Uncut Deck" in the parameters window.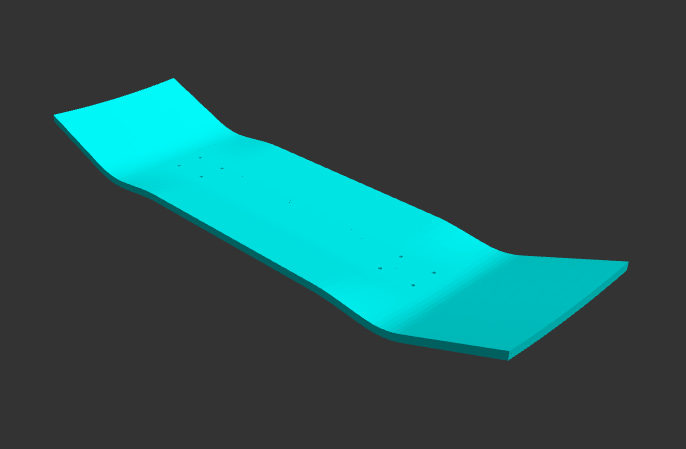 4) Plans: For makers running businesses and looking for more exposure, we're offering a "Pro" subscription, which will give you extra benefits to stand out on the Maker Map. Similarly, for businesses offering veneer, tools, services, and other supplies, we offer a "Supplier" plan to be listed as a supplier on the map.
Please help us continue to grow SK8CAD by becoming a supporter on Patreon!
(Benefits include new feature testing access and supporter-only content.)
If you're not sure how to get started with this new platform, please check out the intro video here:
Want to stay in the loop? Join our email list to receive very occasional emails.
ABOUT SK8CAD
SK8CAD is skateboard/longboard design software developed by Open Source Skateboards and based on OpenJSCAD. SK8CAD allows users to parametrically design boards, molds, and templates and export STL and SVG files.
Ordering:
You can order boards and molds generated in SK8CAD directly from Open Source Skateboards.
Want your business listed as a supplier? Please contact us.
Info:
This software is provided as-is, free of charge. By using it, you agree that Open Source Skateboards and its employees, partners, owners, etc. are not responsible for any costs, damages, harm, etc. done by using this software, whether directly or indirectly. It is recommended that you always safely test your toolpaths and designs before production to ensure you get what you expect. For support, please check out our user guide, videos, and forum, to learn about the tool. If you'd like a virtual or in-person training session on the software, please contact us for a quote
CUSTOM DESIGNS
If you would like any custom design services, please contact us to set up a call to discuss your design/project and receive a quote.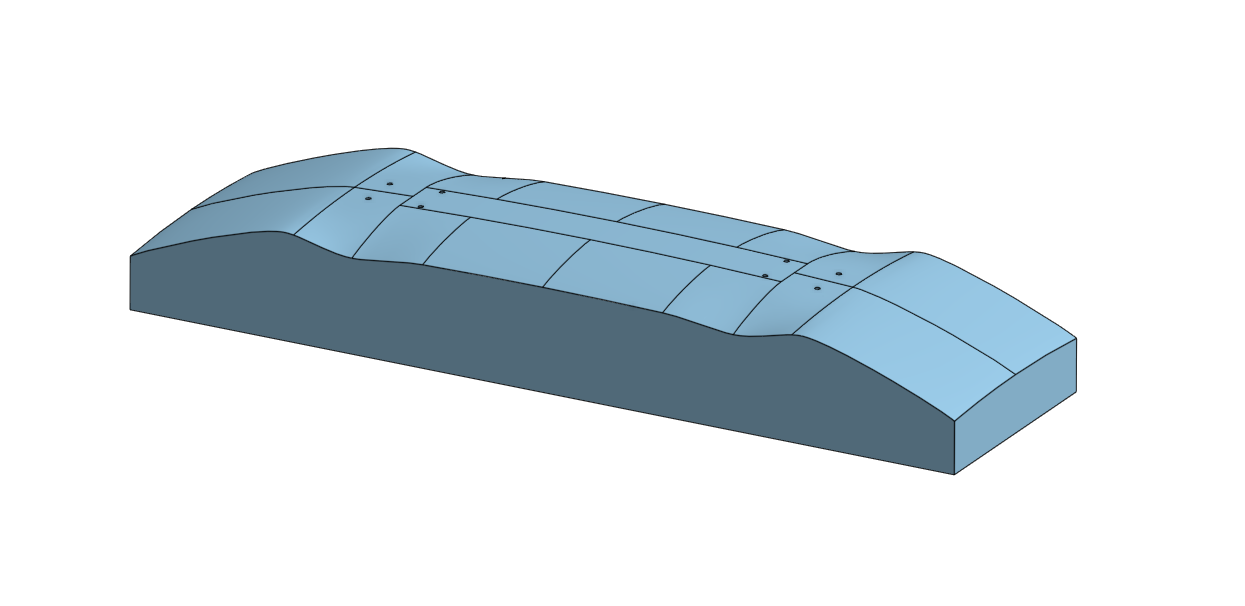 Custom features can include rocker/camber, progressive kicks/concaves, wheel flares, drop decks, and more.
Please enter your email address and create a password:
Please check your email to complete signup!
Don't see an email? Check your spam folder.
To use SK8CAD, please verify your email.
Sign up for free:
Please complete your profile info:
Public Profile
Update account info
User email:
Update Email
Update Password
Delete Account
Are you sure you'd like to delete your account?
WARNING: This cannot be undone!
Enter your email to receive a password reset link.
Are you sure you'd like to log out?
My Saved Configurations
In-app saving coming soon!
We offer three plans for SK8CAD users:
Maker: For casual users of SK8CAD and hobbyists, this free plan grants you access to SK8CAD downloads and the option to add yourself to the Maker Map.
Pro: For board builders running their own business looking to stand out on the Maker Map. This plan gives you additional profile features like links to your social media profiles, a profile bio, and your logo.
Supplier: For businesses providing tools, materials, and resources to board builders. With this plan, you'll get the benefits of the Pro plan, plus a special marker to more easily stand out on the map among the makers.
Maker

$0

$29/mo

$49/mo

Full SK8CAD access
✓
✓
✓
Unlimited downloads
✓
✓
✓
Profile brand/name display
✓
✓
✓
Link to website
✓
✓
✓
Marker color (map)
Profile bio
✓
✓
Profile Logo
✓
✓
Social media links in profile
✓
✓
Logo on hover
✓
Please contact us to upgrade to Pro or Supplier.
---
Patreon: Separately from these plans, we also have a Patreon page with various support tiers. Patreon supporters receive special benefits, which include new feature testing access, voting/influence over development priorities, behind-the-scenes updates, supporter-only tips and videos, and more.



Be listed as a pro and grow your business for just $29/month.

Sign up for a Pro account here.
Become a listed supplier and grow your business for just $49/month.

Please contact us to create a Supplier account.
Example Shapes:
Filename:
---
CNC Machined Foam Mold
Mold Info: Molds are CNC machined using Roarockit high-density foam blanks. The top surface will have clear tape applied as a mold release, and 1/2" diameter notches will be made as shown to aid with board alignment.
Shipping: Molds ship in about 5-7 business days. Default shipping is economy ground - contact us if you'd like to know about alternative shipping methods, to pick up your mold, or for larger order quantities.
International customers: Please contact us for a shipping quote to place your order.
If you'd like additional customization - wheel flares, rocker, camber, alternative concaves, etc., please contact us for our design services. There's typically a $100 design fee for such features.
---
Kraft Paper Template
$14.95

Example template
Templates are laser cut from kraft paper.