Welcome to SK8CAD Version 1.7!
SK8CAD: democratizing board fabrication.
With the help of our Patreon supporters, we've made some major updates to SK8CAD - enjoy!

1) Drop Decks: You can now design "drop decks" (boards with a lower platform) using the new drop deck design parameters. Drop decks are commonly used for freeride, sliding, and long distance pushing.

Use the updated User Guide to understand the new parameters and how they work. (Check out the Example Shapes dropdown to see a new sample drop deck design!)
2) New Shape Library Designs: New designs have been added to the shape library, including some drop deck designs.

3) Animated Views: Animations now occur when you select a new view (top, side, iso) to make the design process feel a little more fluid and natural.
Please help us continue to grow SK8CAD by becoming a supporter on Patreon!
(Benefits include new feature testing access and supporter-only content.)
Want to stay in the loop? Join our email list to receive very occasional emails.
About SK8CAD
SK8CAD is a skateboard/longboard design tool developed by Open Source Skateboards that allows users to easily create highly custom designs and download the digital files required to fabricate them. In a way, SK8CAD enables designers to create "open source" skateboards - boards whose designs are fully defined and shareable.
Ordering:
You can order boards and molds generated in SK8CAD directly from Open Source Skateboards.
Maker Map:
The "Maker Map" feature allows board designers, builders, and riders to connect. This interactive map shows SK8CAD users that have chosen to publicly mark their approximate location and link to their work. You can also use it to find suppliers of board building materials, equipment, and services.
Want your business listed as a supplier? Please contact us.
Info:
This software is provided as-is, free of charge. By using it, you agree that Open Source Skateboards and its employees, partners, owners, etc. are not responsible for any costs, damages, harm, etc. done by using this software, whether directly or indirectly. It is recommended that you always safely test your toolpaths and designs before production to ensure you get what you expect. For support, please check out our user guide, videos, and forum, to learn about the tool. If you'd like a virtual or in-person training session on the software, please contact us for a quote
Credits:
The project is powered in part by OpenJSCAD.
Custom Designs
If you would like any custom design services, please contact us to set up a call to discuss your design/project and receive a quote.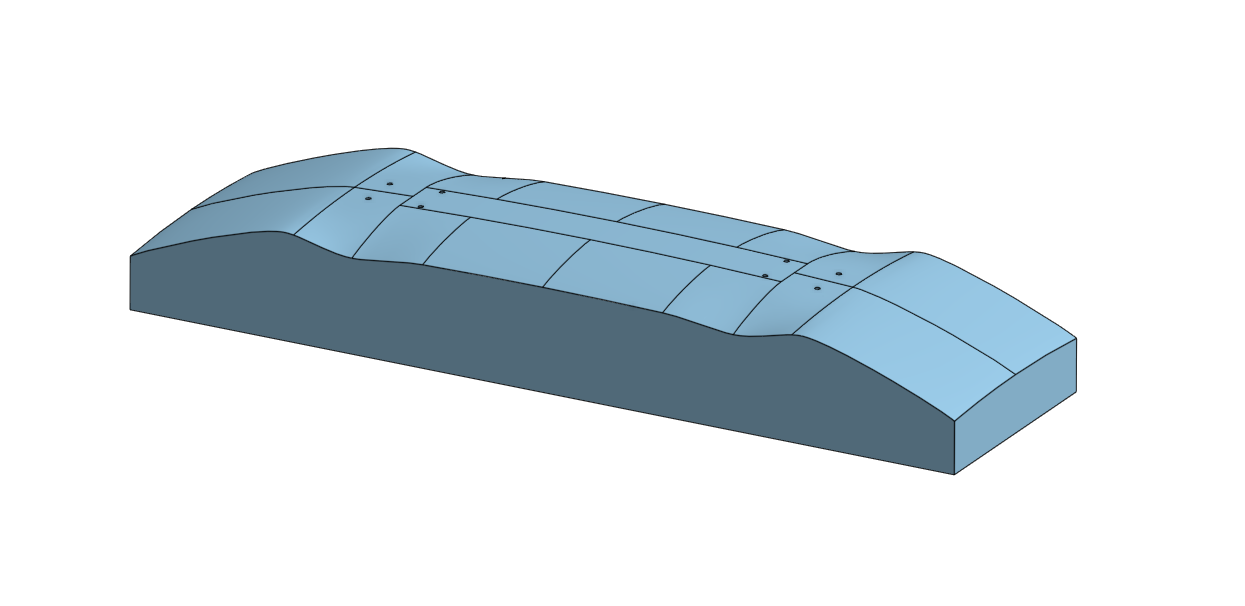 Custom features can include rocker/camber, wheel flares, drop decks, custom profiles, and more.
Use the link below to join our Discord server:
Already joined? Go to Discord and log in.
Close
Upgrade for time-saving features:
| | Lite | Pro |
| --- | --- | --- |
| | $9/month | $29/month |
| Save & Load Designs | ✓ | ✓ |
| Shape Library Access | ✓ | ✓ |
| Faster Tech Support | Email | Email/Phone |
| Free Design Reviews | | ✓ |
| "Pro" Marker on Map | | ✓ |
| Additional Business Profile Info | | ✓ |
| Become a more awesome human | ✓ | ✓ |
No thanks, I don't need to save time.
Please enter your email address and create a password:
Please check your email to complete signup!
Don't see an email? Check your spam folder.
To use SK8CAD, please verify your email.
Sign up for free:
Please use MatterHackers.com to order these supplies.
Disclaimer: Open Source Skateboards / SK8CAD receives affiliate commissions for purchases made through MatterHackers links on this platform.
Please complete your profile info:
Public Profile
Update account info
User email:
Update Email
Update Password
Delete Account
Are you sure you'd like to delete your account?
WARNING: This cannot be undone!
Enter your email to receive a password reset link.
Are you sure you'd like to log out?
We offer several plans for SK8CAD users:
Maker: For casual users of SK8CAD and hobbyists, this free plan grants you access to SK8CAD downloads & the option to add yourself to the Maker Map.
Lite: For board builders that want the ability to save and load their designs directly into SK8CAD, rather than re-entering specs manually. This plan also gives builders access to our extensive Shape Library, a growing collection of pre-designed shapes. Educators: we offer a class pack option, so please contact us for class subscriptions.
Pro: For board builders & businesses looking to get the most out of SK8CAD. Benefits include direct phone/email support, free design reviews (have an expert review your designs before building them), and a special marker on the Maker Map with additional profile features like links to your social media profiles, a profile bio, and your logo.
Supplier: For businesses providing tools, materials, and resources to board builders. With this plan, you'll get the benefits of the Pro plan, plus a special marker to more easily stand out on the map among the makers, custom account analytics, and SK8CAD data access for custom web integrations.
Maker

$0

$9/mo

$29/mo

$49/mo

Unlimited downloads
✓
✓
✓
✓
Profile brand/name display
✓
✓
✓
✓
Link to website
✓
✓
✓
✓
Remove tip prompt on downloads
✓
✓
✓
Marker color (map)
Support
Forum, only
Email
Direct (Phone/Email)
Direct (Phone/Email)
Shape Library access
✓
✓
✓
Design saving & loading
✓
✓
✓
Design reviews
✓
✓
Profile bio
✓
✓
Profile logo
✓
✓
Social media links in profile
✓
✓
Data transfer
✓
Analytics
✓
Logo on hover
✓
Please contact us to upgrade to Pro or Supplier.
Educators: please contact us for class subscriptions / bulk pricing and training.
---
Patreon: Separately from these plans, we also have a Patreon page with various support tiers. Patreon supporters receive special benefits, which include new feature testing access, voting/influence over development priorities, behind-the-scenes updates, supporter-only tips and videos, and more.



Be listed as a pro and grow your business for just $29/month.

Sign up for a Pro account here.
Become a listed supplier and grow your business for just $49/month.

Please contact us to create a Supplier account.
⇦ Expand parameters
Advanced Mode
"Advanced Mode" displays all adjustable parameters in SK8CAD; turn off for a much simpler design experience with less customization.
Example Shapes:
Login to download files:
Forgot Password?
CNC Machined Foam Mold
Mold Info: Molds are CNC machined using Roarockit high-density foam blanks. The top surface will have clear tape applied as a mold release, and 1/2" diameter notches will be made as shown to aid with board alignment.
Shipping: Molds ship in about 5-7 business days. Default shipping is economy ground - contact us if you'd like to know about alternative shipping methods, to pick up your mold, or for larger order quantities.
International customers: Please contact us for a shipping quote to place your order.
If you'd like additional customization - wheel flares, rocker, camber, alternative concaves, etc., please contact us for our design services. There's typically a $100 design fee for such features.
---
Kraft Paper Template
$14.95

Example template
Templates are laser cut from kraft paper.